St Mary the Virgin, Thornborough
Messages from Gussie
25th March 2018
An Easter Challenge
I wonder how good you are at problem solving?
For some who read this it will be part of your everyday employment for instance-
sorting out IT programmes,
making calculated medical decisions,
engaging with unraveling building or farming concerns.

Or in family life

the challenges of juggling work with child or elderly care,
managing the household budget when things are tight,
or issues relating to relationship breakdowns, all of which undoubtedly give you certain 'problem solving' skills
So if I was to lay down a gauntlet and say how in three days could you solve the worlds' problems,
I wonder what you would come up with?
You might start by identifying them. In the news at the moment there are-
- tensions with Russia,
- war in Syria,
- corruption in parts of Africa,
- global media, political and sexual harassment concerns,
- environmental pollution
and closer to home –
- the much debated effects of austerity measures on local and national finances,
- the burdens of the NHS and of course Brexit to name a few.
3 days to change the world into a better place.
How would you do it?
The story of Easter is what God did.
"If man had his way, the plan of redemption would be an endless and bloody conflict.
In reality, salvation was bought not by Jesus' fist, but by His nail-pierced hands;
not by muscle but by love; not by vengeance but by forgiveness; not by force but by sacrifice.
Jesus Christ our Lord surrendered in order that He might win;
He destroyed His enemies by dying for them and conquered death by allowing death to conquer Him."
And who did he do this for?
You and me because that is where the making of a 'better' world must start.
In other words it is personal!
Why not come and hear more of the story at one of our services this Easter
-we would love to see you
9 July 2017
Day of Celebrations
Thornborough, the Coombs and outlying farms came together for a day of celebration and to give thanks to God for the restoration of the Chancel on Sunday July 9th.
The morning started with David Goodger and his band ringing the church bells followed by the Lego service.
The service was based on the story of when Nehemiah rebuilt the wall around Jerusalem with the help of the community - each, no matter what age, playing their part. Cardboard Lego bricks of all sizes, shapes and colours were given to the various organisations and groups the village for them to sign, and along with those added to at the service itself, were strung up on the pillars and along the walls.
A lego wall was also built and joined together at the end of the service. It had many parallels with the story of how the community has come together in many different ways to raise funds for the work of the restoring St Mary's Chancel roof.
Revd Rupert Bursell blessed the work on the Chancel, Rector Will Pearson-Gee lead the prayers, and Thornborough Infant school helped us to sing one of their favourite songs - The Lion's roar!
The flowers as usual were magnificent.
This was followed by some refreshments before the Bring and Share Picnic on the green.
In the afternoon the Sports and Social Club put on a wonderful Sports day for the Village, and later the talented band '6Centric' and Derek Thomas, DJ entertained us with some foot tapping, arm swinging, hips jiggling music.
Rachel organised an Ice-cream van, and Richard manned the BBQ in spite of the heat!
Kate reminded us of the reason for the day by painting the Raise the roof logo on the front of the stage + a huge 'WE'VE DONE IT'.
It was an incredible day and if you would like to see some pictures of the day please visit the event Photo Album
Finally I would like say a personal thank you to all who have supported the project throughout the last three years - you are a very special community to live amongst.
God bless
17 May 2017
Easter
The church was brightly decorated with over 150 coloured butterflies, attached to pillars and pews, cut out by number of the people from the village. The butterfly is a symbolic and visual reminder to us of how Jesus came alive again on Easter morning.
On Good Friday a Walk of Witness took place with members of St Mary's and the Chapel walking from St Mary's, and stopping at several stations on route, while passages were read, before a service was held in the Chapel.
The Easter Sunday service was attended by lots of families. After the family service many stayed for Holy Communion.
St Mary's also hosted a (Buckingham) Benefice Lunch, on the 23rd April. A bring and join meal. A very enjoyable event, with good food and good company.
The Songs of Praise on May 7th began by Alonzo Paul and his wife, both currently studying in Oxford. Alonzo told us about how they started their own e-commerce company, B.I.G, before explaining how his Christian faith helped him through the challenges he faced in his early life.
The next Songs of Praise Service will be on June 4th, Pentecost Sunday. This service will be led by Sue Ambrose, when Sue will be sharing how the Holy Spirit has changed her life.
Keep July 9th free for our service of celebration for our restored chancel
22 November 2016
My Friend Freddy
As I write this Christmas thought I am about to go to my grandson Arthur's first birthday party this weekend, and while I am greatly looking forward to it, I am unsure about what present I should be giving him.
In light of this I went on the internet to find some inspiration.
According to christmastoysite.com the top must haves for the 0-3 age range are:
VTech Toot Drivers Super RC Raceway
Rock N Roll Elmo
NERF N-Strike Modulus Tri-Strike Blaster
But I think it was My Friend Freddy that attracted me the most.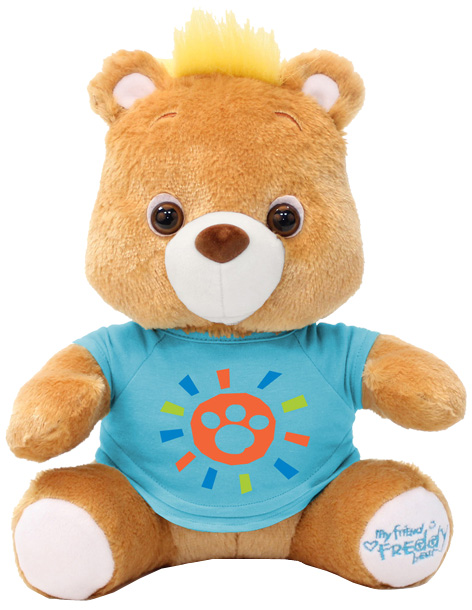 According to the advertising blurb, My Friend Freddy is a bear who knows all about your child! You just need to download the free app to an Android or iOS device, and feed in all data about your child and your family – e.g does your child have a brother or sister, their names, what is your child's favourite food etc: and it continues:
'Your little one will be absolutely amazed that Freddy knows everything about him and his family! Once Freddy knows the data, he can interact and run a conversation with your child on its own will!'
Pretty impressive I thought, but then as I considered it further, I realized that there was a much better gift that I could introduce him to. One that already knew all the information about him and which didn't require me having to spend time typing and updating stuff into the computer.
Furthermore this gift would be, not just for a 0-3yr old, but one that would grow with Arthur, from a child, through the teenage years, to adulthood and beyond.
One that would be there to encourage, guide, and protect him- to celebrate his achievements, while helping him through the more difficult challenges of life.
AND who, like My Friend Freddie, he could talk to and ask questions at any time!
So does this gift have a name?
Of course- 'My friend Jesus'- God's gift of love, who he gave to the world one Christmas. Have you met him?
Why not come along to one of our services to hear more.
By the way in case you are wondering, Arthur's present was Animal Tales, Stories from the bible – Nick Butterworth & Mick Inkpen.
29 August 2016
What a wonderful summer we have had!
Project Chancel roof is about to start, and we have a new Defibrillator outside the Village Hall (thanks to the Thornborough Village Fund Raisers)
Our Songs of Praise services on the first Sunday of each month has been very popular, and well attended.
The Buckingham Parish Choir, as well as The Chase Choir from Whaddon, led us in the singing. Speakers were:
Paul & Susan Mileham (Project Verney Centre)
Elwyn Harker (Life in the Marines/Fire Service and Faith)
Andy Ruffhead (OCCA - addressed the difficult question 'If there is a God how can he allow suffering?)
Emma Cottrell (How Creation and using our God's Creative Gifts can Heal and Restore us)
One of our recent highlights was the annual Teddy Bears Picnic in the Rectory garden. Grannies, Mums and a Dad all came to hunt the bears, play parachute games, eat bear food (carrot sticks, grapes and Pooh's favourite Honey sandwiches). We also played 'Who's Afraid of the Big Brown Bear?' and sang the Hokey Cokey with our bears doing the actions.
Katie Frith, who is doing her Duke of Edinburgh Bronze Award, designed the invitation and helped with the preparations and the event for her community service. A real star!
Other events that are being planned are:
October 2nd @ 6.00pm the second Healing and Wholeness Service with the opportunity for prayer
October 9th @ 11:00am Harvest Celebrations and Service
There will be a Harvest Messy Craft after school time on Friday 7th October to make some of our decorations, and the usual call for all tractor drivers to bring their 'mean machines' to the Sunday service will be advertised.
10 March 2016
An After School Mothering Sunday Messy Craft was held on the Friday March 4th to make gifts and decorations for the church service.
The theme was 'from the heart' and we decorated heart biscuits, made heart cards and posies, made a Thank You God for Mums altar frontal and Heart pew ends.
Jill Bury also made a large twig heart which the children tied fabric and ribbons to and then added silk flowers to finish. It was wonderful!
The Service
For the service we thought about the different types of love all illustrated by different textured hearts which the children could feel – soft comforting love (fluffy material); rough, gritty love (sandpaper) and steely love (wire wool).
Then we looked at how they fitted in with the things we know about Mary the mother of Jesus and how she experienced each of those 'loves' as she mothered him form birth to death.
But there is one more heart that is to come on Easter Day... I wonder what you think that might look like? Why don't you come and find out?
HAPPY EASTER TO YOU ALL
1 February 2016
Dear Villagers
It seems amazing that I have not updated my 'news' page since Harvest.
So HAPPY NEW YEAR!
We had a great Christmas, with a wonderful candle light Carol Service, Christingle, and Midnight service.

Also for the first time this year we had a ½ hour Christmas morning service for the family which was in a nutshell – FUN. We played pass the parcel as the Nativity story was told and the prize was Jesus' birthday cake – shared by all.
As always like at Harvest and Remembrance, our Christmas collection is given away to those who are less fortunate than ourselves. This year we gave to:
Farms in Crisis
Help the Heroes
British Legion
The Children's Society
Crisis at Christmas
Raise the Roof update
Thank you all so much for the wonderful Quiz evening on Saturday night which, with the Christmas Quiz, made £1139.00.
The update on the Chancel roof: sadly, our application to WREN has been unsuccessful. Unfortunately as the repairs were to the Chancel roof, they focused purely on that part of the building, and decided that community use of the chancel on its own did not meet their requirements. They have, however, indicated another grant we can apply for, and we are of course currently preparing the new LPoW grant application - so much easier now that we have all the information we needed for WREN!
Forthcoming Events
All are listed on the website Events Calendar:
Deanery Evensong at St Mary's. February 28th 6.00pm.
Mothering Sunday Family Service March 6th 11.00am (A MUST FOR FAMILIES! )
We will be holding a 4 week Lent Course in the Chapel. See advert.
You are invited to a Seder meal in the Village hall on Maundy Thursday.
The Seder meal commemorates the Passover meal which Jesus and his disciples celebrated at The Last Supper. Martin & Gill Taylor are going to guide us through the dishes and their meaning - reflecting on the time when the Jews escaped from slavery in Egypt. It promises to be very special.
If you interested in joining us please contact – Gussie 01280 821616
Lent Course reflecting on the meaning of
Angels
Abba
Adam (first & last)
Amen
Led by Revd Rupert Bursell.
On. Wednesday. February 24th, March 2nd, March 9th, March 16th.
Time. 7.45pm at The Chapel,Thornborough.
Contact. Revd Gussie Walsh 01280 821616
9-11 October 2015
Harvest Festival Weekend
What a wonderful time we had! THANK YOU TO ALL WHO CAME AND SHARED IN SUCH A CELEBRATION!
FRIDAY AFTERNOON - it all started on Friday afternoon with the Harvest Messy Craft being held in the school. There was much to create, eat, drink and talk about - as creatures , and flowers, were brought to life in the classroom. Parents, grandparents, carers and children were encouraged in their icing, folding, sticking and painting by Gill, Taryn, Karen, Gay, Jennie, Nicky and others. So by the end of the afternoon – poppies, mice, scarecrows, stain-glass birds, autumn leaved cakes, foxes, worms, and even a rat were ready to be taken over to the church.
FRIDAY EVENING – was the wonderful barn dance at Claire Morgan's Meadow Valley Farm. This year we included not only the usual delicious meal but a barn dance as well. Over 100 of the village community came, and as always Thornborough threw themselves into do–si-do-ing with abandonment- (in spite of tucking into Charlotte's wonderful butternut squash soup & game-pie, and the Raise the Roof committee's apple crumbles.)
SATURDAY - was the Porch Sale and those who came also helped to decorate the church for the Sunday's Festival Service.
Sue and Michelle helped to make the poppy and corn end of pew bunches , while others brought their produce for the windows, and Mr Scarecrow (Eddie Bulman lookalike?) took up residence in the Porch.
Thornborough School's illustrations of the 'edge of the corn field' were hung up, as the theme of the Service was making us think of those who are marginalised in both our and the global communities and how we might help them.
To address some of the issues each of the Village Societies were asked to illustrate the fringe benefits which come from beloging to their respective clubs –The Friendship, Gardening, Cricket clubs and the WI. all rose to the challenge of course. Their contributions are on dispay in the church.
SUNDAY - Harvest Festival Service.
The sun shone through the church windows and the beauty of the place was breathtaking.
5 tractors arrived, as did many from the village.
Organist Collin Place played the traditional harvest songs , while the children led us in the actions, as we sang Big Red Combine Harvester.'
The Old Testament story of Ruth was told.
Ruth was young Moabite widow who left her home and family to accompany her mother-in-law Naomi, back to her homeland after her husband and two sons had died. The two had nothing but what they could carry.
Arriving in Bethlehem at harvest time, we read how Ruth went to the fields to find grain to make bread for her and Naomi.. In Jewish law the land owner had to set-a-side the corners of the fields so that the poor could come when the working day had ended to find some of the harvest to feed their families.
Ruth was soon noticed by the owner of the field, Boaz, who admired her loyalty and compassion for Naomi, and in time they were married and had a child Obed.
But that was not the end of the story for….
Obed was to have a child called Jesse, who was to have a child called David, a giant slayer and famous King.- and furthermore it was from this line of David that Jesus came into the world…..which is why we were in church on Sunday!
All from picking up grains of seed from the set-a-side of a farmer's field! A story that is very relevant, given the media coverage of the migrant crisis today!
If you have never read it, do – it is a very thought provoking and heart warming story.
'All good gifts around us are sent from heaven above, then thank the Lord, O thank the Lord, for all his love'
'And don't forget to do good and to share with those in need. These are the sacrifices that please God'.
Gussie
15 August 2015
Chancel Roof Project Update
Some may wonder what is happening on the Chancel Roof repair project. The answer is plenty!
I have written a report on the Raising the Roof section of this website which you can find on the nevigation bar or by following this link: Raising the Roof
I hope this helps in keeping you informed and thank you for your continued support,

God bless,

Gussie

4 July 2015
Unity Music Festival
WOW! Thornborough's Unity festival was AMAZING!
For those who came it will come as no surprise to learn that Glastonbury has a lot to learn from such an event.
Not only were the toilets sweetly fragrant, but there was no mud for the campers, and the different bands delivered both an eclectic and professional programme on a par with other national music festivals.
The weather was perfect, the stalls and children's events were enticing, with the Bouncy castle and the see-saw bringing out the child in one or two of the over 30's (as you can see in the snapshots).
The food on offer ranged from Homemade Cream Teas to a delicious Bar-B-Q, and scrummy Jacket Potatoes with a range of fillings.
There was a Pimms stall and a Two Brewers bar to help keep the thirst at bay.
All events and stalls were run by the various organisations in the village to help support their future events.- hence the title "Unity Festival"
Lots more photos from the day are in the Unity album available from the Photo Album page and if you have any to add we would love to have them! Please send them to Gussie to add to the site.
It was a marvellous experience and a HUGE thank you to all involved, especially Claire Morgan for hosting and organising such a wonderful event. From the facebook entries it appears that there are many who are already looking forward to next year!